My Blog
Posts for tag: tooth decay
By Silverman & Associates
November 18, 2021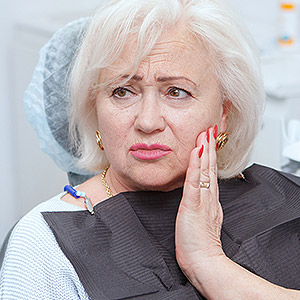 Although there are several potential problems people could encounter involving their teeth, gums or mouth, most fall into three basic categories. That's the finding of a recent survey conducted by the American Dental Association of more than 15,000 U.S. adults.
These categories are a triad of symptoms, each of which could arise from a variety of causes. If you're encountering any one of these, you should see your dentist as soon as possible.
Tooth pain. A toothache—or any form of pain from the mouth—could be sign of a number of possible issues. It could mean you have a decayed tooth, especially if the pain is sharp and localized. It could also indicate a gum abscess (accompanied by red and puffy gums), a sinus or ear infection, or inflammation of the jaw joints. The intensity, duration and location of the pain are all clues to its actual cause and what treatments it might require.
Biting difficulties. Does it hurt when you bite down? Among other things, you could have a loose tooth or one that's deeply decayed. The former could be the sign of advanced gum disease, which itself must be treated and the tooth stabilized (splinted) to other teeth. If the problem is advanced decay, you may need a root canal to remove diseased tissue from within the interior of the tooth, which is then filled and crowned to prevent re-infection.
Dry mouth. We're not talking about that "cotton mouth" feeling we all get now and then. This is a chronic condition known as xerostomia in which the mouth feels dry all the time. Xerostomia has several causes including smoking or treatments for cancer or other serious diseases. It might also be a medication you're taking, which has reduced your mouth's saliva production. Because dry mouth could lead to dental disease, you should take steps to relieve it.
Even if you're not having symptoms like these, there may still be something going on in your mouth that needs attention. That's why you should see your dentist on a regular basis, besides when you notice a problem, to keep your oral health in tip-top shape.
If you would like more information on potential teeth and gum problems, please contact us or schedule an appointment for a consultation.
By Silverman & Associates
July 21, 2021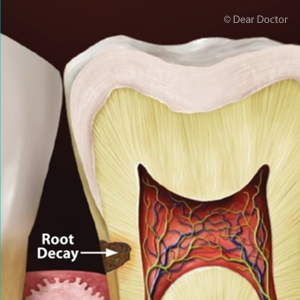 Finding out you have a cavity isn't the best of news. But finding out it's a root cavity is even worse: if not treated, the decay can spread more rapidly than a cavity occurring in the tooth's crown surfaces.
Our teeth are basically composed of two parts: the crown, the visible tooth above the gum line, and the roots, the hidden portion beneath the gums. The root in turn fits into a bony socket within the jaw to help hold the tooth in place (along with attached gum ligaments).
A tooth crown is covered by an ultra-hard layer of enamel, which ordinarily protects it from harmful bacteria. But when acid produced by bacteria comes into prolonged contact with enamel, it can soften and erode its mineral content and lead to a cavity.
In contrast to enamel, the roots have a thin layer of material called cementum. Although it offers some protection, it's not at the same performance level as enamel. But roots are also normally covered by the gums, which rounds out their protection.
But what happens when the gums shrink back or recede? This often occurs with gum disease and is more prevalent in older people (and why root cavities are also more common among seniors). The exposed area of the roots with only cementum standing in the way of bacteria and acid becomes more susceptible to cavity formation.
Root cavities can be treated in much the same way as those that occur in the crown. We first remove any decayed tooth structure with a drill and then place a filling. But there's also a scenario in which the cavity is below the gum line: In that case, we may need to gain access to the cavity surgically through the gums.
If you have exposed root areas, we can also treat these with fluoride to strengthen the area against cavity formation. And, as always, prevention is the best treatment: maintain a daily schedule of brushing and flossing and regular dental cleanings to remove bacterial plaque.
Because decay can spread within a tooth, dealing with a root cavity should be done as promptly as possible. But if we diagnose and initiate treatment early, your chances of a good outcome are high.
If you would like more information on treating root cavities and other forms of tooth decay, please contact us or schedule an appointment for a consultation. You can also learn more about this topic by reading the Dear Doctor magazine article "Root Cavities."